On its own, Regal King Salmon is a delicious dining experience. The gorgeous orange colour captures your first sense: sight. As the salmon travels to your mouth, your next sense is activated: smell. It's fresh, reminiscent of the cool, clean deep seawater from where the salmon is raised. Finally, comes the most important sense: taste. The velvety, buttery texture of our  salmon melts in your mouth bite after bite.
That's just our Regal King Salmon on its own. It also pairs perfectly with so many other zesty flavours and delicious herbs and spices that will tantalise your senses even more. 
In this blog, we explore some delicious flavour profiles and share some of our favourite recipes so you can bring them to life and taste them for yourself.
Cold Smoked Salmon Profiles 
Beech Wood Smoked Salmon
To prepare our Beech Wood flavour, we cure the salmon in a blend of sea salt and brown sugar. We then smoke the salmon over New Zealand beech wood at a low temperature for hours. This produces a light sea salt aroma with a mild and sweet smokiness. Regal Beech Wood Smoked Salmon is super versatile and can be the star of any meal.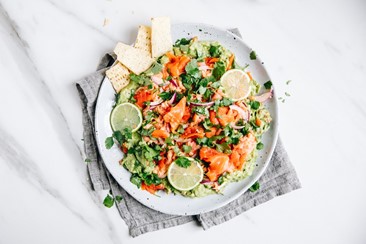 Manuka Wood Smoked Salmon 
We cure the salmon with sea salt and brown sugar and smoke it over native New Zealand Manuka wood. Manuka wood is a traditional smoking wood for fish and game meats in New Zealand. You'll get a beautifully rich, smoky flavour profile. It's a classic Kiwi flavour that can go great in all your favourite meals. 

Pastrami Wood Smoked Salmon 
Our pastrami style salmon is slowly smoked over a low temperature with natural New Zealand beech wood. It's then crusted with crushed black pepper, garlic and paprika - traditional pastrami spices. This blend of spices gives the salmon savory and spicy notes that will complement any Reuben sandwich!
Recipe to try: Regal Pastrami Smoked Salmon & Asparagus with Parmesan & Garlic Dipping Sauce

Wood Roasted Salmon 
Beech Wood Roasted Salmon
Our Beech Wood flavour is also available in our Wood Roasted range. It has similar tasting notes, but is more flakey in texture and delivers a more buttery taste. Beech Wood goes excellently in everything from sandwiches to salads.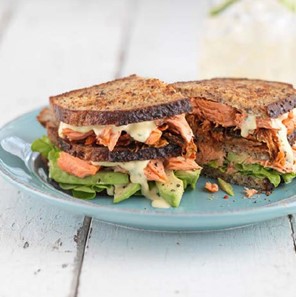 Have you sampled all of our flavours? Head to your nearest supermarket and try a new flavour of our delicious Regal New Zealand King Salmon for your next meal!