"Where does my food come from?"
Good question! It's important to know more about our food. After all, the habitat from which our food comes impacts its overall quality, from flavour to nutrition.    
Now that brings us to our Regal King Salmon - and it gives us great pleasure to introduce you to a little place called the Marlborough Sounds...
The Marlborough Sounds
Picture this: Bright blue sky (most of the time), rolling green mountain ranges and crystal-clear water… In a nutshell, that's New Zealand's Marlborough Sounds.
Located at the top of the South Island, the Marlborough Sounds produce some of the world's best King salmon. This region is a collection of sunken river valleys that have filled with water from the Pacific Ocean over thousands of years. The area is made up 1500km of an intricate coastline that weaves around three main bodies of water: Queen Charlotte, Kenepuru and Pelorus Sounds.
But, it's not all stunning scenery, it's also a nice environment for our Regal King salmon's growth.
What makes this region able to produce world-class salmon? We'll let you in on a secret: there's something in the water...
Clean water
New Zealand's waters are some of the cleanest in the world. Our farms are scattered through the Marlborough Sounds in areas that have a strong current that flushes the salmon's habitat free of debris. Regal Marlborough King Salmon is also committed to sustainable farming practices to keep the Marlborough Sounds in pristine condition. We've achieved the world-leading Best Aquaculture Practices certification from The Global Aquaculture Alliance as well as the Monterey Bay Aquarium's Seafood Watch "Green/Best Choice" rating in 2015.
Safety first at our sea farms
New Zealand has strict biosecurity procedures and no other native salmon species in the surrounding environment. This means our King salmon haven't needed antibiotics to keep them safe and healthy. Our salmon also have plenty of room to roam and grow - just 2% of the space in the sea farm is occupied by salmon, and the remaining 98% is just water.
Truly, it's the 'merroir' that makes the difference
The 'merroir' describes how a salmon's taste reflects the water from where it was raised - and it's the unique mix of currents, water quality and temperatures that bring out our King salmon's unique flavour.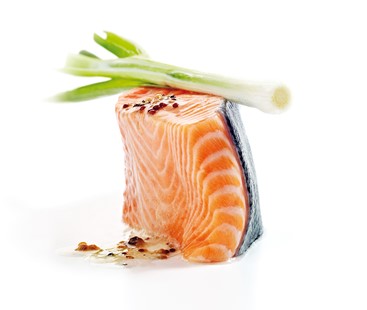 As a result of this stunning habitat, Regal King Salmon are regarded as some of the best salmon in the world. Its rich flavour, luxurious buttery texture and stunning orange colour make Regal Marlborough King Salmon a favourite amongst the world's top chefs and home cooks alike.
Fancy some Regal Marlborough King salmon? Head to your local grocery store and pick some up for yourself!