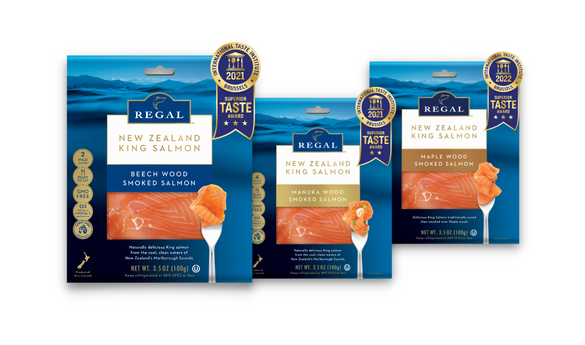 Cold Smoked Slices
Our Regal Cold Smoked Salmon is cured in a dry salt and sugar mix, smoked at a low temperature in aromatic wood and then sliced. With its vibrant color and sea-salt aroma, each delicate sliver has a velvety texture which delights the palate and melts in your mouth to leave a lingering, sweet smokiness. The unique qualities of Regal Cold Smoked Salmon adds elegance to any dish and is ideal for delicate finger foods and canapés where taste, texture and visual impact are important.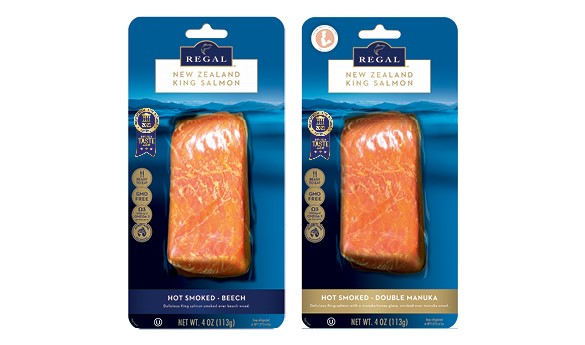 Hot Smoked Portions
Our Regal Hot Smoked Salmon is the finest New Zealand King Salmon, slowly roasted over aromatic wood, either au natural or with a subtle flavoring. Our Regal Hot Smoked Salmon has a fragrant fusion of smoky aromas and sea salt, with a luxuriously buttery taste. The golden exterior of the salmon flakes easily to reveal a soft orange-pink hue that characterizes the rustic nature of this product. Regal Hot Smoked Salmon is a delight to eat hot or cold, on its own or in pasta or salad dishes.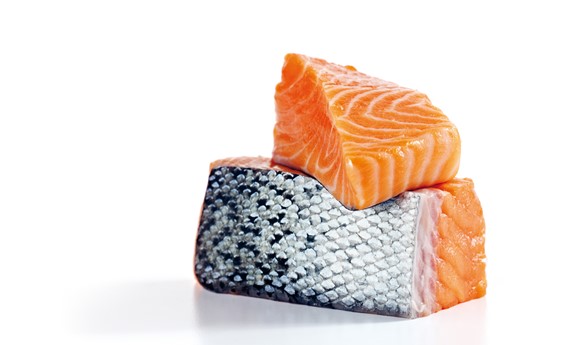 Fresh King Salmon
The delicate texture of fresh Regal King Salmon evokes the purity of its place of origin; the cool, deep sea waters of New Zealand's Marlborough Sounds. With its generous marbling, Regal King Salmon is vibrant in color. In taste, our salmon has a creamy mouth feel reminiscent of ripe avocado. The layers of salmon have a buttery texture, almost velvety, and melt away in the mouth. Fresh Regal King Salmon is perfect for sashimi and sushi, oven baking, poaching, pan- frying or grilling.